NGK Motorcycle Spark Plugs
If you know about precision and performance for your motorcycle, then you know about NGK motorcycle spark plugs. NGK/NTK technical ceramics is the leading manufacturer of automotive, ATV and motorcycle spark plugs - NGK plugs are OEM equipment in more vehicle models than any other brand. We carry several lines of NGK motorcycle spark plugs, including the popular NGK Standard and NGK Iridium IX spark plugs. We carry for several dozen brands including Harley-Davidson, Honda, Kawasaki and Yamaha. All spark plugs ship for free on Sixity.com and include a 100% fitment guarantee!
Click to view more NGK Motorcycle Spark Plug features, or simply scroll to the bottom of the page.
---
NGK MOTORCYCLE SPARK PLUGS
Compatible with aftermarket ECU/ECM engine controllers and AFR monitors (Dynojet Power Commander III, WEGO II, AEM, Drivven, PLX, PowerDEX. Original equipment in Aprilla, BMW, Cagiva, Ducati, Honda, Husqvarna, Indian, Kawasaki, KTM, Moto Guzzi, Norton, Suzuki, Triumph, Victory and Yamaha. Equivalent/upgrade replacement for AC Delco, Autolite, Bosch, Champion, Denso and Motocraft plugs.
NGK Motorcycle Spark Plugs, Boots, and Wires. Use the following NGK Spark Plug Guide to help determine the best spark plug for your motorcycle. Whether you are looking for a long-lasting performance spark plug, or one for everyday use, Sixity has the NGK spark plugs you need, at a price you will not find anywhere else. From NGK Standard to specialized motorcycle iridium spark plugs.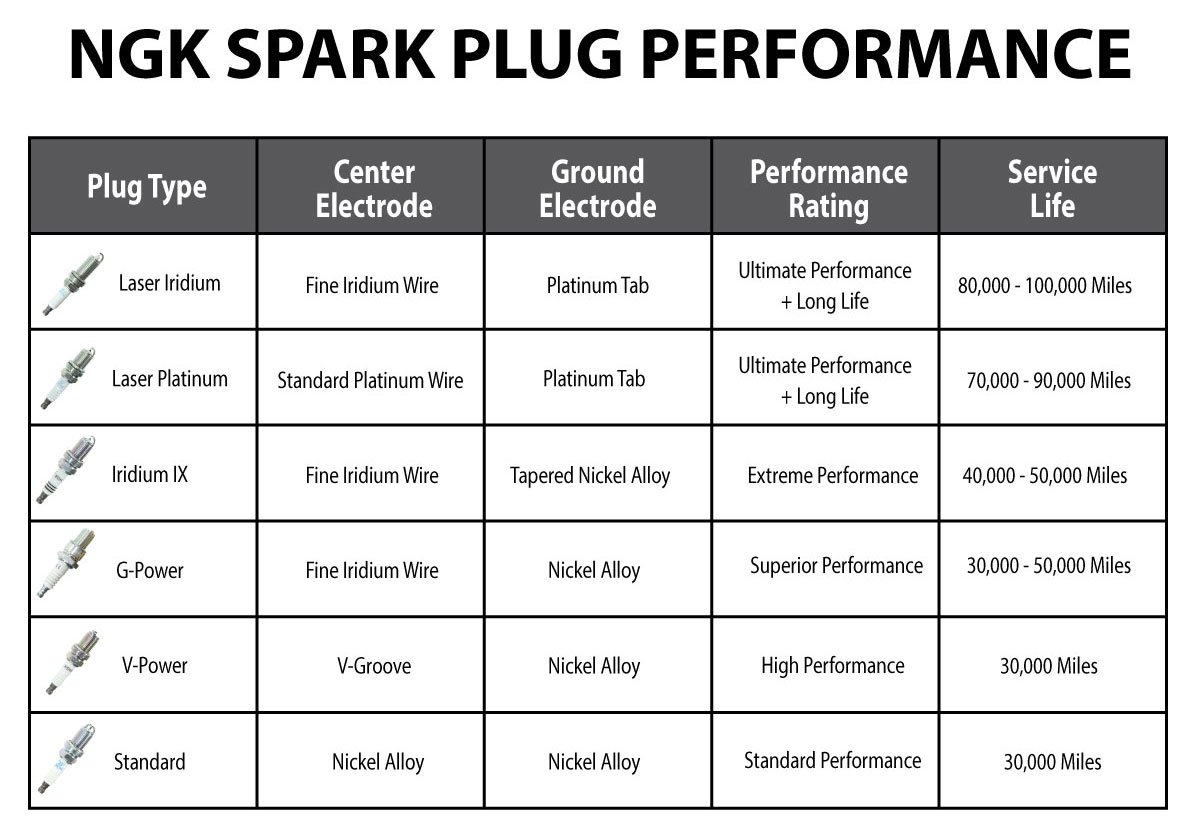 Precision ceramic insulators
Corrosion-resistant shell with triple high pressure gas seals
Screw or snap-on electrical connectors
Pre-installed metal compression gaskets
Copper-core electrode cooling
Application specific heat-range design
Improved cold-starting performance
Smooth firing at high or low engine RPM
Reduced electrode erosion and long service life
Enhanced ignition efficiency and fuel economy
Superior anti-fouling characteristics
Reduced hot-spark firing voltage requirements
Maximum engine horsepower and torque
Superior throttle-response, acceleration and WOT performance
Precision Laser-welded Iridium electrodes - 6X harder than platinum
Looking for motorcycle spark plug removal or installation instructions? Visit our "how-to" page for spark plugs.